See our prices for our supporting SEO content
Every website needs solid needs supporting content. If your only pushing commercial content, your likely going to run into some issues. This service is best for things like guest posts, supporting articles, meta descriptions etc.
Take a look at our preview article and see what you'll be getting
My Content Pal: Earn While You Learn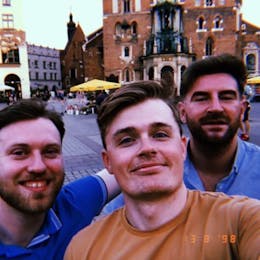 Craig Dewart
As much as we like to think of ourselves as masters of content production, sometimes that creative spark just isn't there. Everyone feels like this at some point and it's absolutely nothing to worry about. Luckily for us, there's a very useful trick that we can use if we're ever in need of a little inspiration. This cool tip that actually uses Reddit to find popular content, which we can use to get the creative juice flowing again. 
My Content Pal: Earn While You Learn
Here at My Content Pal, we work with a variety of clients. From CBD oils to kids' toys, we've covered many niches. 
But hang on, what is a 'niche'? 
How do our writers know the ins-and-outs of SEO content writing?
Today, we're going to go through our onboarding and learning development processes to demonstrate the kind of care and dedication we invest in cultivating an environment where people can earn and learn. 
A Place to Grow 
We've created an environment in which our writers earn whilst they learn. Simply put, this means that we undergo a rigorous and dedicated onboarding process for all of our writers – and once they're in, we focus on upskilling them to the highest possible level.
My Content Pal is not just a dedicated copywriting service for its clients – it's dedicated to its writers too. We train our writers so that they have the best experience possible whilst working with us, achieving exactly the kinds of experiences and detailed know-how that they'd like as they progress further. 
That's the name of the game; supported progression.
 Don't believe us? Just hear from our writers:
"As a chef unable to work during COVID, I knew I had to find something new. I came across this company, liked what I saw, and I figured 'why not?' Flash forward a month – after not doing anything like this before, I love it. Everything you write, you learn about. From binoculars to back supports, you know exactly how to write about what a client wants – and you can use SEO to do it."
The 5 Easy Steps of Successful Onboarding:
Our onboarding process is easy, fluid, and clear. Every writer that joins us is supported from the outset – we wouldn't have it any other way. 
So, just how do we ensure this? 
1. Defining Expectations
The very first tenet of our onboarding process is to define our expectations. Our writers should know exactly what they're opting into when they come to the My Content Pal environment, so we're sure to be as clear as possible. This includes:
Job roles
Specific content types and clients
Efficient optimisation and SEO technicalities 
We have a selection of dedicated written guides and tutorial videos in order to instruct writers on everything they need to know before they've begun. 
So long as our writers have a clear idea of what the job entails, they'll know how to approach briefs from clients going forwards. We also ensure that every writer provides us with a realistic capacity of how many words they can, and want to, write. 
My Content Pal is an ideal working environment for its flexibility – that's a fact. 
2. Assessing Skills
Once our writers have a clear idea of our expectations and capacities – including our lightning-fast TATs – we'll launch them straight in.
Of course, there's support available through a variety of outlets, to begin with; the Managing Directors, Content Managers, and Team Leaders are all on hand at any time to answer queries and provide support. 
Any new writer will test the waters with a short-form piece. Once completed, this piece is checked by our Editing and Quality Control teams. Detailed feedback is provided to each writer, so they have a clear picture of our expectations and how they can improve upon performance.
We understand that SEO is a learning curve and one that's hard to master! That's why we invest time and resources into ensuring that our writers can continue progressing – so the learning curve straightens out into a steep, steep gradient. 
We think we've managed to achieve it pretty well… just look at our client testimonials!
3. Integration into Teams 
Once writers are happy and raring to go, they're put into a team. This is the fun part! At MCP, we have a uniquely-structured network of writers. We have three teams, each with different word capacities, clients, and focuses. Each team has a Team Leader.
This Team Leader is a writer's first port of call if they run into any signs of trouble. Just as we hand content to clients faster than they can say "Surfer SEO", our Team Leaders aim to answer queries at this rapid pace, too!
A team is a supportive environment in which fellow writers can aid each other and flourish with the help they need:
"My team leader has been incredibly useful in terms of making communication easier and providing regular content. I can ask them any question and their responses are always useful and generous." 
It's what makes us stand out; ensuring our writers work as a team is at the core of our ethos! 
4. Regular Feedback
Most importantly, we don't just give feedback at the start. We provide it at every stage in a writer's journey. Whether you've been here for a week or a month, we'll make it our mission to ensure you're happy with how you're growing.
This feedback can include anything at all, from writing style, to workload and capacity, to the technical definitions of SEO. Ensuring that writers are happy is a crucial step to producing high-quality content, and building a supportive network.
It really is the key ingredient. 
5. Clear Communication 
Finally, we pride ourselves on clear communication. A hallmark of everything we do, the ability to chat with our writers in an informal environment is the true undercurrent to ensuring that this well-oiled machine runs efficiently at all times.
We're a company that strives to be as clear and responsive as possible because we know how frustrating not having this can be. As a phoenix that rose from the ashes of COVID-19, our company has worked doubly hard to ensure that our writers really do feel like a team – and how do we do this? Communication is key. 
Continue reading
My Content Pal is one of the best services I've found for content. It's easy to use, affordable and their articles are optimized for on-page SEO. Highly recommended!